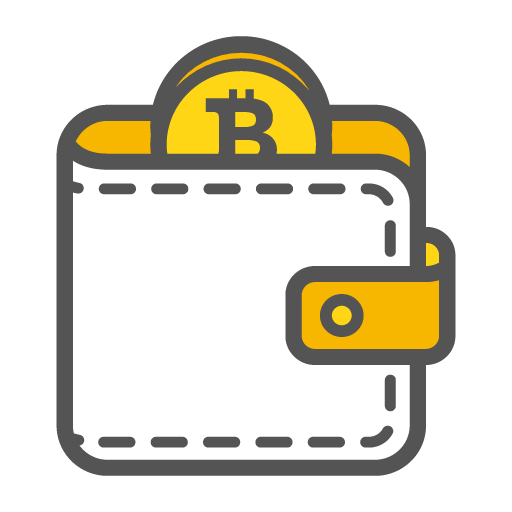 Crypto wallets vary in their security, storable assets, and UI… some are even adding built-in defi integrations! Hardware wallets like Ledger and Trezor focus on MAXIMUM safety. Others like Argent and Eidoo, offer improved usability and features. Smart contract wallets have a layer of code on top that can interact with the Ethereum blockchain. This allows for features like modular integrations and DEXs.
Below, I'll review the top crypto wallets based on their security, UI, and overall functionality.
Wallets with Defi Protocols Built-in
Argent Wallet: ERC-20 Modular Smart Contract Wallet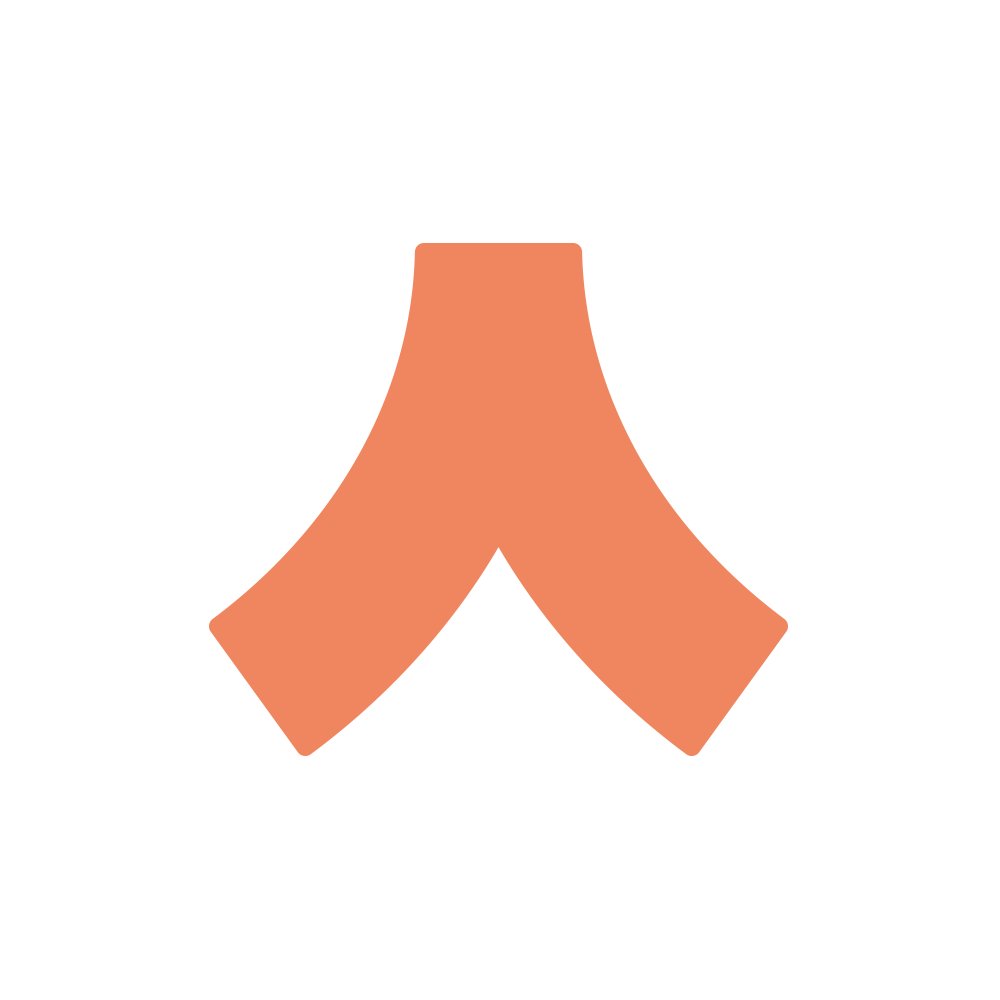 Argent is a non-custodial, smart contract wallet with a great UI, advanced security features like Guardian, and modular integrations for defi.  It is a "Smart Wallet" that uses smart contracts to put a layer of code on top of an account to create a better user experience and improved security. Argent has my favorite UI!
Features of Argent "Smart Wallet"
The Guardian System – this feature lets users recover their wallet with NO seed phrase. They just need approval of a guardian. Guardians can be trusted friends or family, a hardware wallet you have access to, or even a 3rd party service. The guardian system uses a multi-sig transaction, requiring two private keys to make a wallet recovery.
Free ENS address – each Argent user gets a free ENS at username.argent.xyz. This offers users an easily memorable URL, instead of a complex string up numbers.
No Gas Fees – Argent subsidizes gas fees. Users no longer have to pay for transactions.
Blocks Untrusted Transactions – if a transaction is sent to an address you don't have white-listed, and is over the "daily limit", you have 24 hours to disprove it or approve it through a guardian address.
2-Click Maker CDP – the process of opening up a CDP (collateralized debt position) on the Maker platform is reduced from about 7 click, into 2 clicks.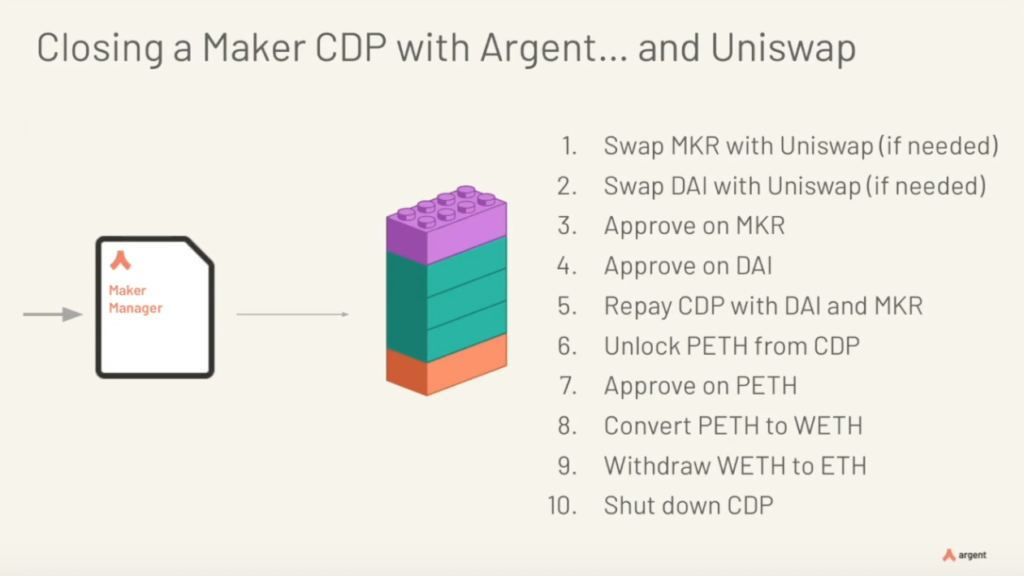 Native Defi and Modules via Wallet Connect – In addition to the natively integrated modules like Maker, Compound and Kyber. Additional modules can be added/removed/upgraded through WalletConnect to improve the functionality of the wallet. Interesting modules include the SendWyre module that allows users to buy crypto with ApplePay.
Features Coming Soon – In 2020, Argent plans to add more fiat on-ramps in Europe and the U.S., as well as adding DAPPs to the registry.
Cons: Doesn't support Bitcoin. Supports ERC-20 tokens, but limited assets compared to some other wallets.
Eidoo Wallet : Multi-Currency wallet, with a built-in Exchange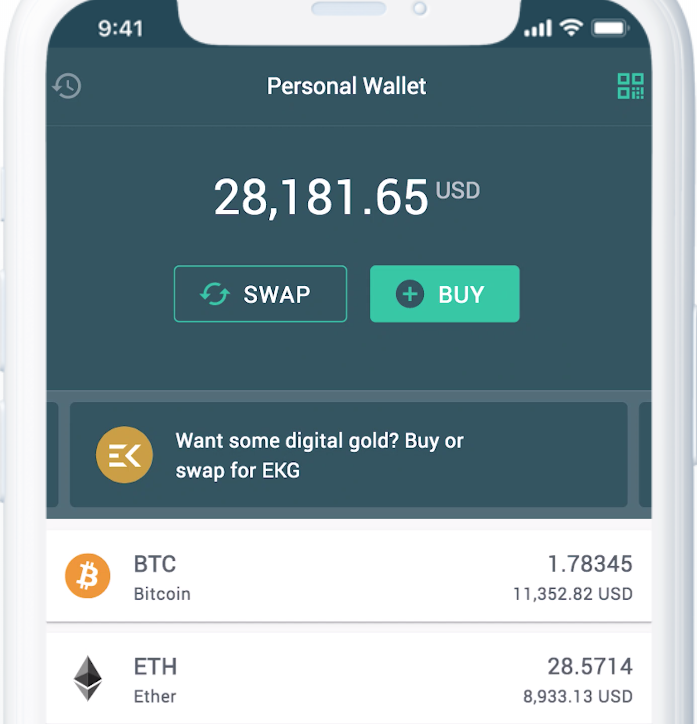 The Eidoo wallet is multi-currency and supports BTC, as well as ERC-20 tokens. It also offers a built-in decentralized exchange, ico-engine, token recognition, and defi integration.
Built-in Exchange – Eidoo offers a built-in DEX (decentralized exchange) allowing for quick atomic swaps.
Defi Functionality and 1 click CDPs – Eidoo offers one-click access to defi services like Fulcrum and Compound. Users can easily send their DAI to a smart contract where they can earn around 8% interest, through the DSR (Dai Savings Rate).
Dapp Browser – coming soon to Eidoo is a browser where you can interact with all your favorite defi and gaming dapps.
EidooPay – Eidoo will soon be launching a debit card linked to the Eidoo Wallet.
Additional Features Coming Soon – Features which will soon be added include: an NFT wallet, support for EOS, and a Liquid wallet.
Cons: Lacks multi-sig wallet recovery, and 2-factor authentication.
My Wallet security scare
I switched to a hardware wallet, when i had a big security scare. I got a malevolent browser extension added to my computer, and a remote user was trying to access my notepad, where i had stored my crypto passwords. I quickly switched to a ledger hardware wallet, before they were able to access it.
I lucked out, and none of my crypto was stolen, but i will never take security for granted again. I store the majority of my crypto in Ledger Nano hardware wallet. I'll explain why below.
WHY ARE HARDWARE WALLETS SAFER?
Hardware wallets like Ledger and Trezor ONLY allow a user to access their private key, when the physical hardware is hooked up to your computer. No one can steal your crypto if it isn't accessible via the internet. This is the safest form of wallet!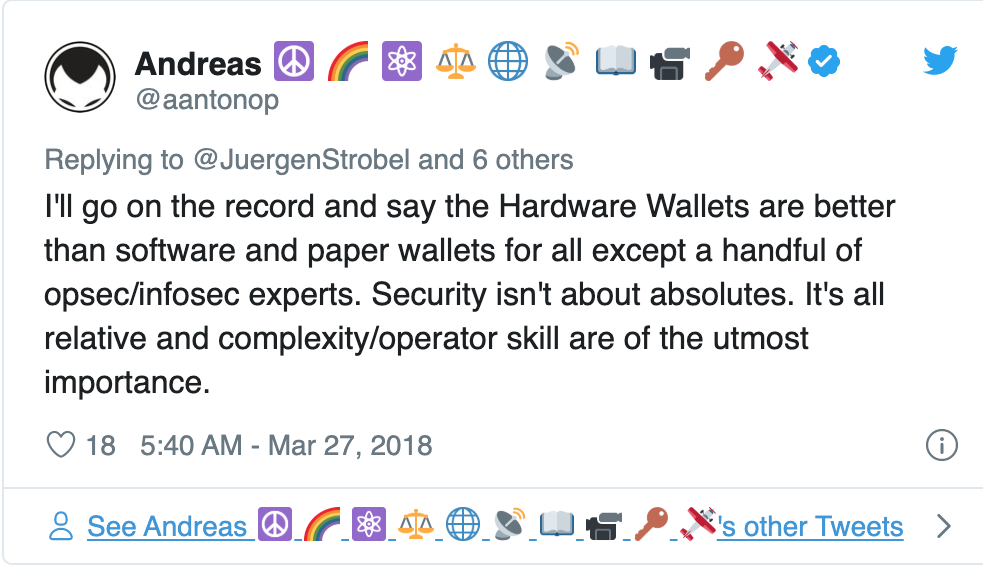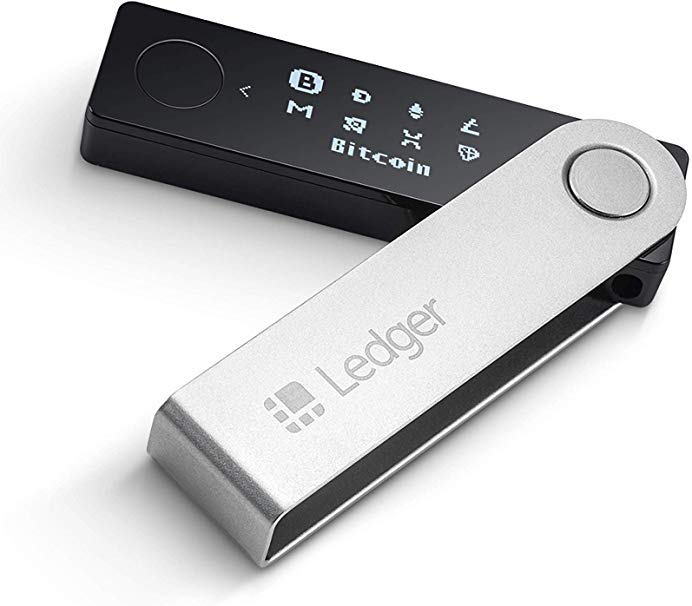 Ledger Nano – This is an affordable hardware wallet that i personally use. It costs $59. It is a multi-currency wallet which allows cryptos like BTC, ETH, EOS, TRON and NEO. The ledger is an HD (Hierarchical Deterministic) wallet, which means that each time funds are sent to your BTC address, you receive a new address. This enhances your privacy.
Cons: It doesn't have the best user interface.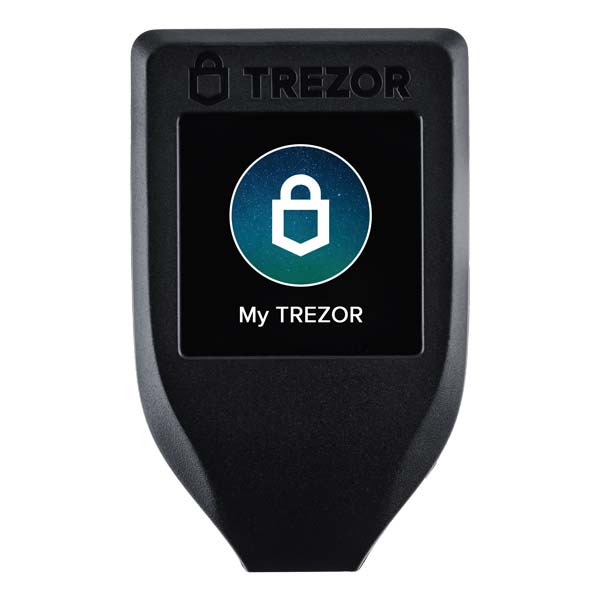 Trezor – This inexpensive hardware wallet at $59 was launched in 2014. It requires a 24 word seed-phrase at setup. The Trezor is even safe to use on a malware infected computer. It also offers a help center with customer support.
Cons: Not hierarchical deterministic.
Wallets Integrated into Browsers
A wallet i use often, due to its native integration into the Brave Browser is meta-mask. I use it mainly to access defi and gaming dapps. It allows you to login to a website through your wallet, without the need to signup with an email and password. I do recommend the Brave Browser, as you can earn BAT by viewing ads.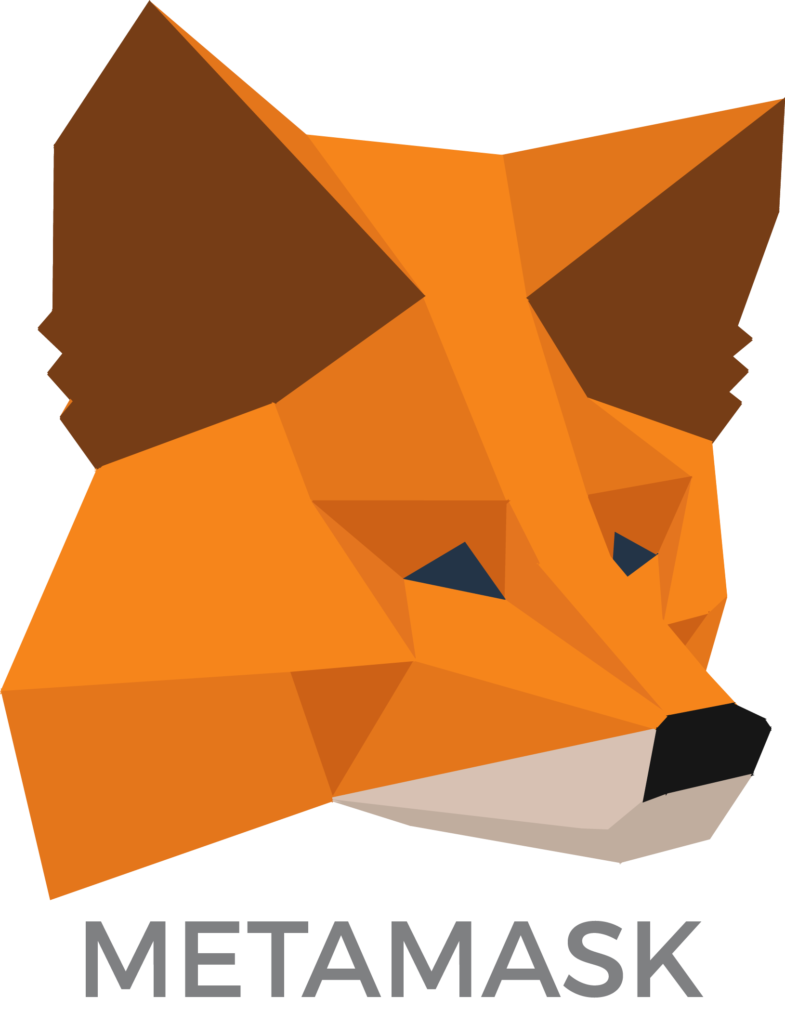 Meta-mask – Meta mask is also available as a browser extension for Chrome, Firefox, and Linux. It is an ERC-20 wallet which is open-source, and uses HD backup. I like it due to its easy-of-use.
Desktop Wallets
Exodus Desktop Wallet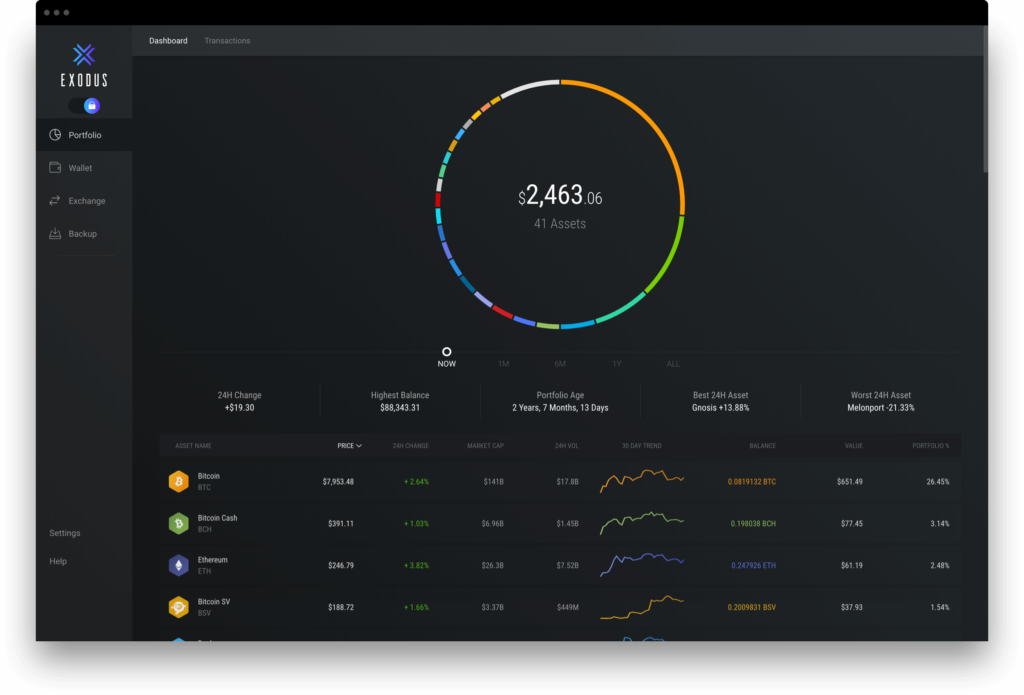 My first crypto wallet was the Exodus wallet on my desktop. I like this wallet because of its awesome pie-chart UI. I would score it very high in look and usability.
It also stores a wide-range of crypto-assets. Over 110! It offers an integrated DEX with atomic swaps, and the ability to access a Trezor hardware wallet.
Cons: lacks 2 factor authentication and the exchange fees can be rather high.
What is my WALLET of choice?
I use my Ledger Nano S hardware wallet whenever possible and store the majority of my crypto on it. I was almost hacked, and i learned my lesson! I use multiple hot wallets, smaller amounts of crypto to trade and use with defi. Im currently using Eidoo, Metamask, and Argent.
I would most strongly recommend Argent and Eidoo. I like how Argent is natively integrated with ENS, and has modular integration with Sendwyre offering an easy fiat on-ramp through Applepay.
Edioo is another solid choice, and i use it as my mobile wallet. I like their defi-integrations and i like the direction they are moving.
For a Hardware wallet, i would recommend a Ledger Nano, due to its strong security. I would like to see defi integrations for my Ledger similarly to Argent and Eidoo. A fiat gateway would be amazing!
If you liked this article, please follow me @defipicks!