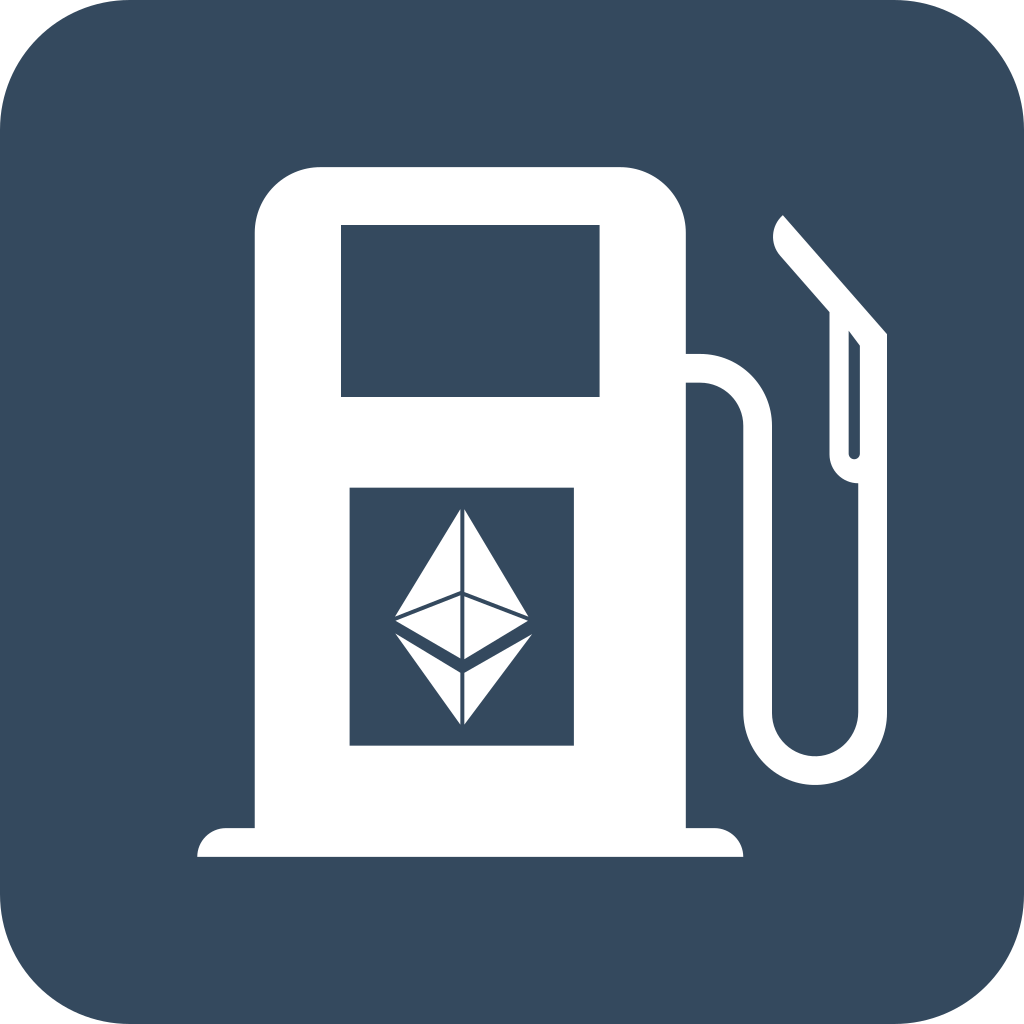 When demand spikes on the Ethereum chain, the gas fees skyrocket. It's sad to say, but ETH has been unusable for me at critical times 🙁
What is Huobi Eco-chain?
For this reason, I've begun to explore blockchains like Binance Smart Chain (BSC), Huobi Eco-chain (HEC), and Avalanche. They are very fast, and very cheap. In Ethereum's high gas environment, blockchain's like HEC or BSC can give us relief until Eth 2.0 arrives, or until layer 2 is better utilized.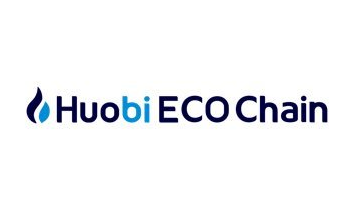 Huobi Eco Chain (HEC) is a centralized chain, similar to Binance chain. It has near zero gas fees, and is compatible with Ethereum's virtual machine. HEC will bring in cross-chain assets, via FIRE protocol's decentralized bridge.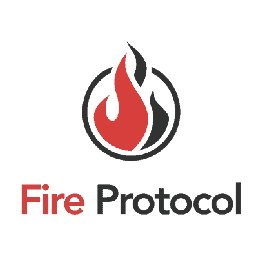 Fire Protocol (FIRE) will be a flagship product on HEC. It will serve as key infrastructure. It has elements of Aave, Uniswap, and Synthetix, but is cross-chain. It will provide staking, lending, synthetic assets, wrapping, swaps, and limit orders.
Fire protocol's decentralized bridge can wrap assets from other chains, and bring them into HEC. These assets can to be traded, lent, or used as collateral for near zero fees.
Fire Protocol has huge growth potential. It is on a growing chain, and is only at a 3 million MC. Bringing cross-chain assets onto a low gas chain, is a major use case for HEC. There are even rumors of BSC integration (updates on this should come soon)
Important Links:
Fire Protocol Roadmap and Features:
The image below is Fire Protocol's roadmap. The first order of development is its loan platform, here. Loans are live now.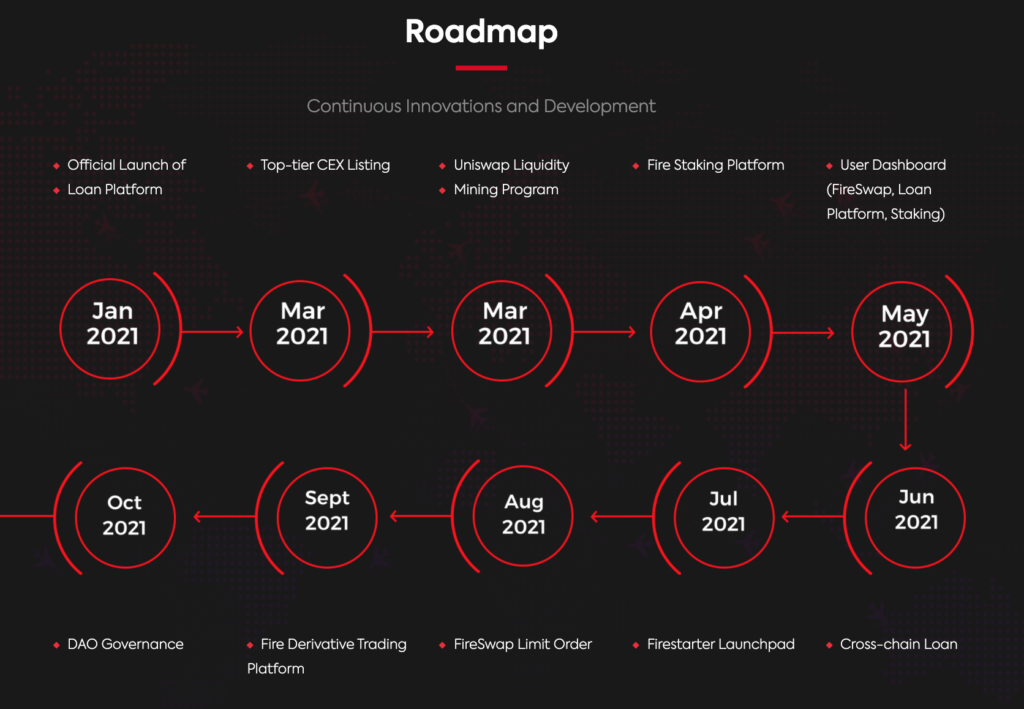 Fire Protocol's Cross-Chain Bridge – Fire protocol is building a decentralized cross-chain bridge, to wrap non-HEC assets. This will bring millions in liquidity to HEC. It's an improvement over centralized solutions which have a high risk, single point of failure. It will safely allow assets from chains like DOT, ETH, and BSC to be ported into HEC.
Lending Pools – users can provide liquidity to Fire protocol's lending pools. The funds can be borrowed, just like on Aave. But, Fire protocol allows its users to borrow on their LP tokens as well! They can earn fees and interest, while using the LP tokens as collateral.
Decentralized Exchange – the protocol has an AMM (automatic market maker), similar to Uniswap. It can trade wrapped assets from other chains. There is a 0.3% fee on each swap. Users provide liquidity to facilitate swaps and earn fees.
Cross-chain Wallets – the protocol uses wallet accounts on HEC Chain A, with sub-addresses for other chains.
Synthetics, Insurance, NFT's, Leverage – These products are scheduled for late 2021 and 2022.
Staking – The staking of the $FIRE token is live now. The APY reaches maturity at 42% in 3 months. It can be withdrawn earlier, for a reduction to 8%.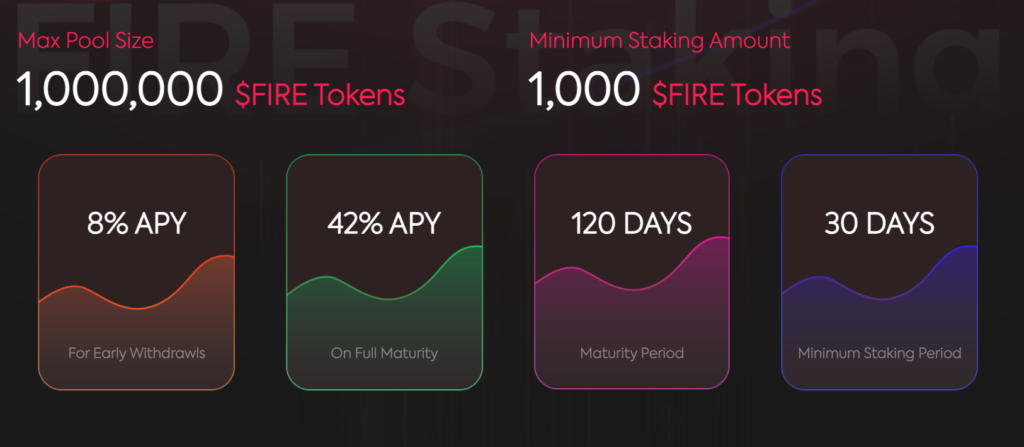 FIRE Tokenomics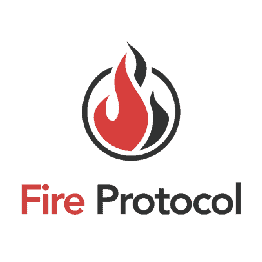 The FIRE token is used for governance, and incentives. It represents a user's share of voting power, which can be delegated or used individually. The FIRE token can be farmed by providing liquidity to the DEX, or the lending pool.
The total supply of FIRE is 100,000,000, with almost 5 million circulating.
(the image below is wrong. it should be 100 million tokens)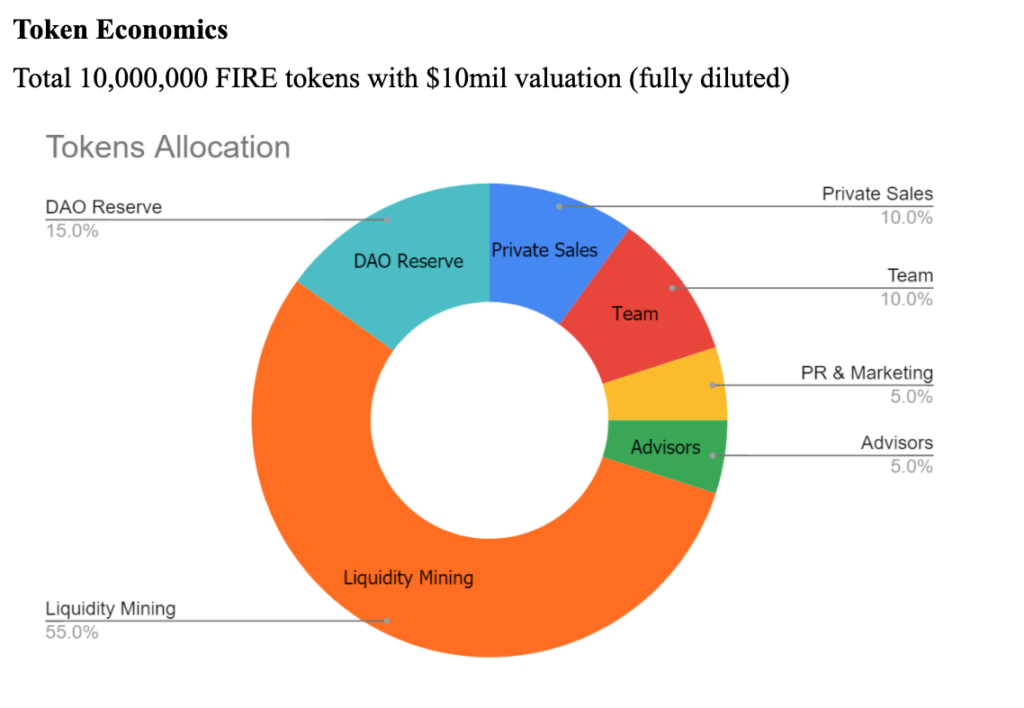 The Fire Protocol Team
Fire Protocol's team is experienced, and fully doxxed. They've extensively worked in crypto, project management, and fintech. Team members have collaborated with projects like Celcius, Aubit, and Moon Whale capital.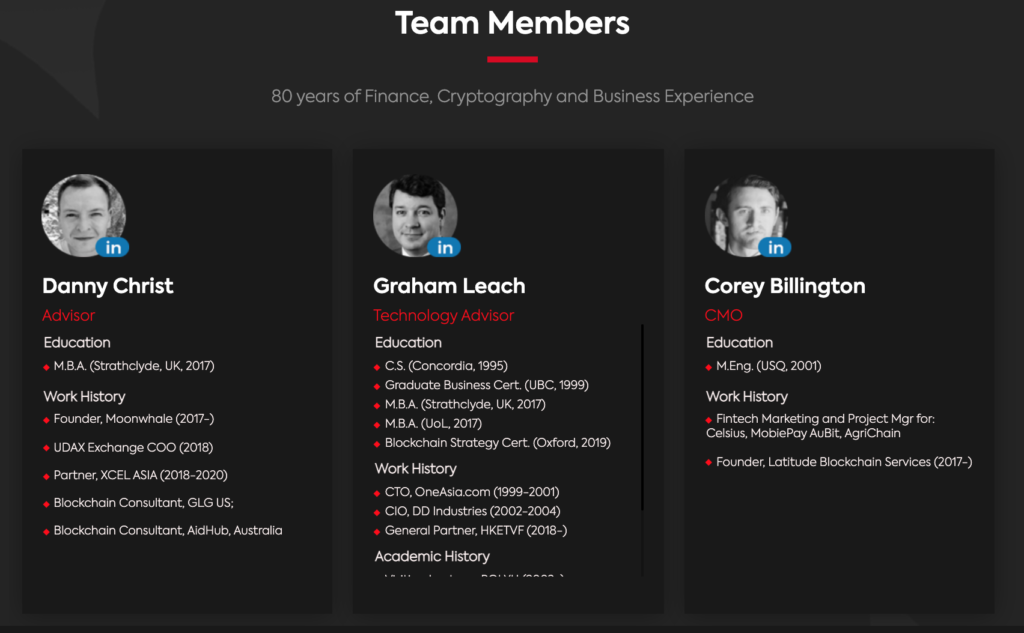 Partners
You can judge the strength of a project, by the company it keeps. Fire protocol has high quality partners like: Elrond, Matic, Unilend, Mahadao, Orion, Stafi, Ferrum, Cyberfi and Umbrella Network.
Investors include: Moonwhale Capital, Magnus Capital, and 8 Decimals Capital.
My Conclusion on Fire Protocol
Fire Protocol will be a key product on HEC. I feel that fast, centralized chains like HEC, could rise against Eth's dominance (at least temporarily), if fees continue to rise. Centralized chains are less secure, but many users will still take this risk. As ETH struggles to scale, users can easily migrate to test other chains. HEC could have a similar trajectory, as Binance Chain.
Huobi is pouring over 200 million into its defi eco-system. Fire Protocol will play a central role in this economy. Its decentralized wrapping bridge will bring in huge amounts of liquidity to HEC.
Staking and lending are live on the protocol now. The team seems qualified to deliver on its roadmap. It's also partnered with other high-quality projects, so it is well-positioned for success.
$FIRE could go parabolic, if HEC gains marketshare. With alternate chains like BSC and Avalanche blowing up, Huobi Eco-Chain could experience a similar rise. This project could be the Aave/Synthetix for HEC.
If you liked this article, please follow me @defipicks