* Here's a new farm i'm in on Matic, I'm getting 550% APY
here.
In this article, im going to review Blockfi. It is a NY based startup, founded in 2017. It operates in a centralized fashion, just like a bank, but it caters solely to crypto investors. I'm mainly interested in its high interest saving account. It lets you earn 5.1% interest, on BTC.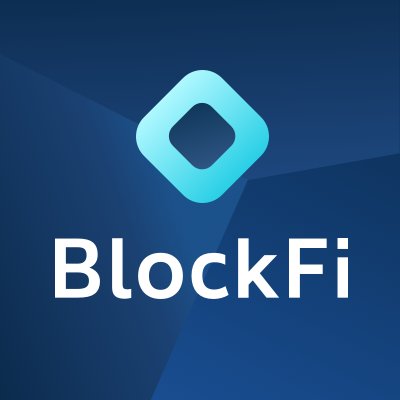 I reviewed BlockFi because it offers a desperately needed service in crypto, compounding interest on BTC. I'm interested because I want to keep my exposure to the BTC price, but also earn a healthy interest.
In this article, i'll try to answer the questions: is it safe?, are there hidden fees? and is it insured?
BLOCKFI offers three basic services:
a high interest saving accounts
crypto-backed loans in 47 states
and fee-free trading
(coming soon) A Bitcoin Rewards card
Who Are BlockFi's Funding Sources and Backers?
Blockfi has received $50 million+ in high profile backing. Funders include: Consensys Ventures, Mike Novogratz's Galaxy Digital, and Anthony Pompliano's Morgan Creek Capital. (Interview with Anthony Pompliano below)
…Below, I'll review BlockFi's two flagship financial products.
High Interest Crypto Savings Accounts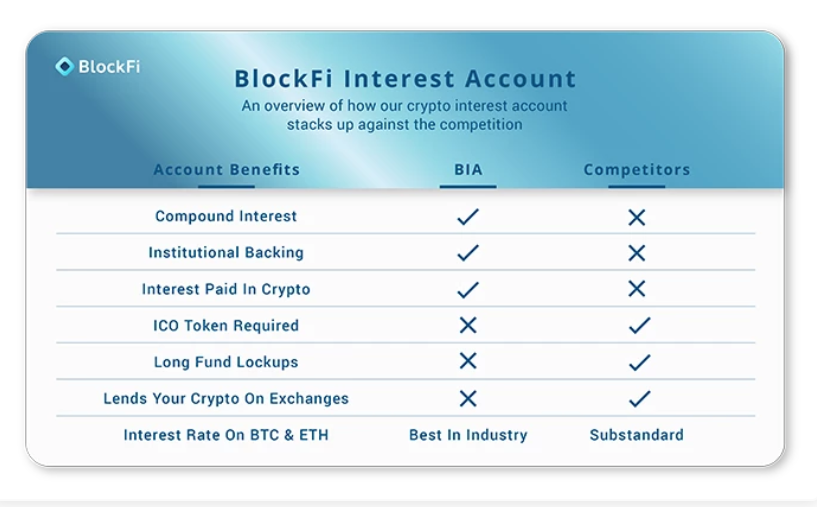 BlockFi's high interest savings accounts (a.k.a. BIA account), has NO minimum balance requirements for new accounts.
A BIA offers interest on cryptos like: BTC, ETH, and LTC. It also works with stablecoins including: GUSD and USDC.
One nice feature is that, there are no lock-ups on a BIA. Users can withdrawal their funds at any point. Interest is paid in the crypto of choice, on the first of each month.
So, Why Do Stablecoins Pay Higher Rates Than BTC?
Stablecoins like GUSD, pay rates up to 8.6%. I found out that these better rates are due to higher dollar demand for borrowers, than for cryptos like BTC, or ETH. This is a reflection of supply and demand in the market.
Below are BlockFi's current BIA rates:
BTC – 5.1%
ETH – 3.6%
GUSD – 8.6%
USDC – 8.6%
BlockFi's rates are variable. They are "locked in" on a month-to-month basis. Users will receive a newsletter each month to notify of rate changes for each month.
For the most current interest rates, check loanscan.io
Interest Payment Flex
BlockFi just implemented Interest Payment Flex. This lets users be paid interest in the crypto of their choosing. Users can receive interest in BTC, LTC, or a stablecoin.
How Much Can You Earn on 1 BTC, with Compound Interest?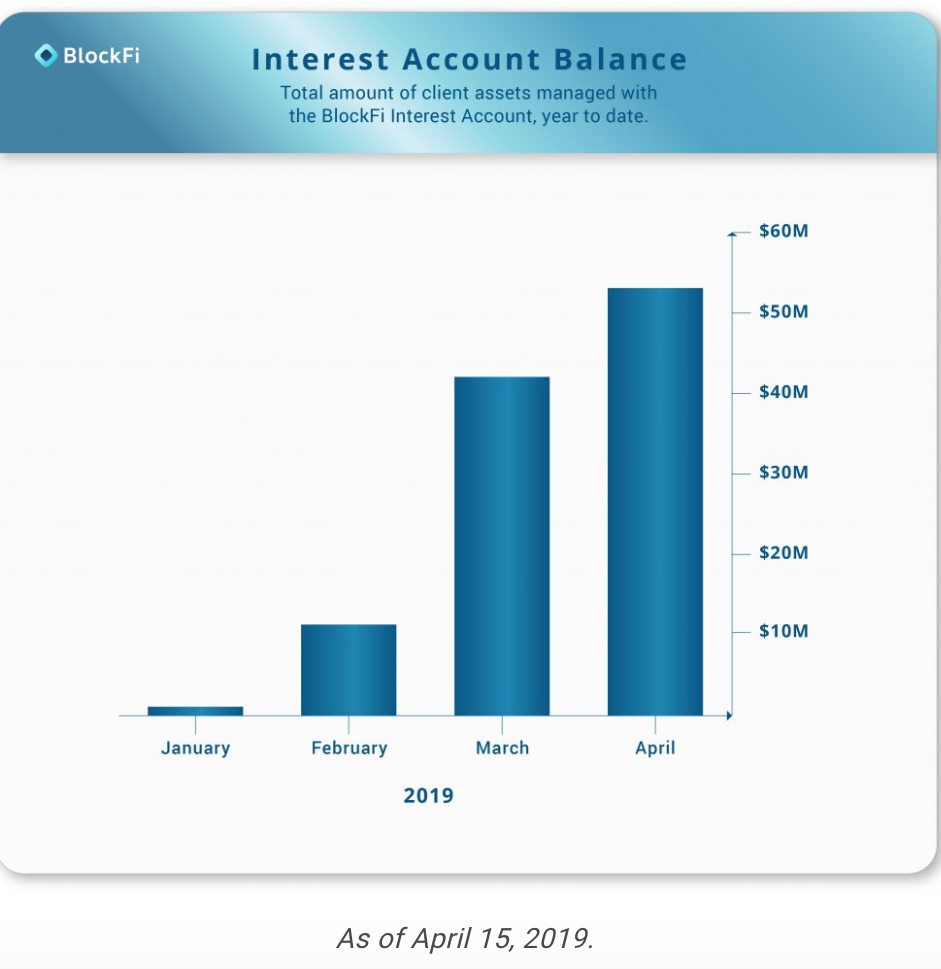 BlockFi let users earn compound interest. It is paid out monthly. This means you will earn "interest on your interest", not just on the principle.
So, How much would you earn on 1 BTC in a year?
At 6% interest, a deposit of 1 BTC will generate .005 each month, bringing the total to 1.005. The interest for the next month will be generated on 1.005. If the interest rate stays at 6%, the total amount of BTC will increase to a value of 1.062 BTC over a 1 year period.
BlockFi's Crypto Collateralized Loans
Blockfi also offers secured loans. They are collateralized using your crypto. The secured loans are offered with a minimum 50% loan-to-crypto value.
A 50% loan-to-value means that a borrower will have to put up $5,000, in order to receive a $10,000 loan. This type of over-collateralized lending is the least risky type of lending.
In order to receive a loan, a user must go through the KYC process. This will probably take a few minutes. Borrowers need to fill minimal paperwork, as well as some personal information to obtain a loan. But, BlockFi does NOT pull credit history!
Loans will be funded via stablecoins, or a wire. Funds are sent the same day. The loan process can take a little as 10 minutes, which is a lightning speed compared to a traditional loan.
SO, Who has Custody of Your funds? Is it Insured?
BlockFi uses Gemini for custody. BlockFi DOES NOT control your private keys. One important thing to note, is Gemini has $200 million of insurance against hacks and cyber-attacks. But, they are not FDIC insured, because a product like FDIC insurance does not exist in the world of crypto!
Gemini has safety protocols like a proprietary cold storage system, and has recieved a Soc 2 audit.
5 Benefits and 5 Drawbacks I found about of Blockfi
After researching this company, i'm impressed with what i found.
I like Blockfi, because it's perfect for HODLERS like me. It lets me to keep my BTC price exposure. At the same time, i can earn interest that appreciates in value. It is one of a few lenders, which allows compounding interest at a high rate (5-6%) for BTC.
Below, are 5 Positives and 5 Negatives that i found:
5 Benefits of BlockFi:
Monthly Compounding Interest
Insured Gemini Custody Services
One Free Withdrawal Per Month
No Early Withdrawal Penalty. No Lock-ins.
No Minimum balance to Earn Interest
5 Negatives of BlockFi:
Its Centralized. You have to give up control of your funds.
If you go over the one withdrawal per month, the fees will be 0.0025 BTC.
Interest Rates are Variable
Higher amounts of BTC, ETC, LTC will earn interest at a lower rate.
Users must pass KYC
What is Blockfi's Business Model? How do they make money?
BlockFi lends out your funds. They lend to corporate borrowers, market makers, hedge funds, and traders. BlockFi typically provides borrowers with over-collateralized loans, which is the safest type of loan. This ensures a low risk.
Client funds are at the top of the capital stack, meaning that Blockfi would take a loss, before users would.
BlockFi Withdrawl limits and fees
BTC: 100 per 7 day period and a fee of 0.0025
ETH: 5000 per 7 day period and a fee of 0.0015
LTC: 10,000 per 7 day period and a fee of 0.0025
Stablecoins: 1,000,000 per 7 day period and a fee of $0.25
What's coming to Blockfi in 2020?
In 2019, Blockfi added Interest Accounts and Trading. In 2020 they plan to add additional financial services, improve usability, and add support for more assets. They will also be adding an app and fiat on/off-ramps.
Another product that they will be adding is a BTC rewards credit card. This will allow users to earn BTC cash back on every purchase. They see this card as a way to bring crypto to the masses.
My Conclusion:
After my review, i think i might give BlockFi a shot. It provides interest in BTC, while letting users hold their funds in the BTC. The interest rate is currently at 5.1%, but since the crypto will appreciate, it will more likely be closer to 10+%. The only issue i had was the during the signup process, you have to give your email address and phone number. I didn't like this because i recently got my identity stolen via some job listings, so i am ultra paranoid about giving my personal info out. But, other than this issue, i think BlockFi provides a needed service for crypto holders.